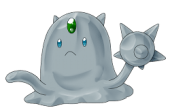 Metallo is a 4 star Metal Arkadion. It is Elementless.
Be patient, it takes a few run throughs to catch.
Has a defender ability that comes into effect at the beginning of battle. It will actively block attacks meant for other Arkadions, so be wary of what attacks to use if you are trying to catch a Metallo.
Can be used for the Barricadus recipe.

Any level in Azid Ziggurat to the South of Lassandal.
Evolution
Edit
States taken from Lv. 30 immediately after capturing.
| HP | Attack  | Magic | Speed | Defense | Resistance |
| --- | --- | --- | --- | --- | --- |
| 5 | 5 | | 2 | 1 | 0 |