Ad blocker interference detected!
Wikia is a free-to-use site that makes money from advertising. We have a modified experience for viewers using ad blockers

Wikia is not accessible if you've made further modifications. Remove the custom ad blocker rule(s) and the page will load as expected.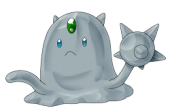 Metallo is a 4 star Metal Arkadion. It is Elementless.
Be patient, it takes a few run throughs to catch.
Can be used for the Barricadus recipe.

Any level in Azid Ziggurat to the South of Lassandal.
Evolution
Edit
States taken from Lv. 30 immediately after capturing.
| HP | Attack  | Magic | Speed | Defense | Resistance |
| --- | --- | --- | --- | --- | --- |
| 5 | 5 | | 2 | 1 | 0 |