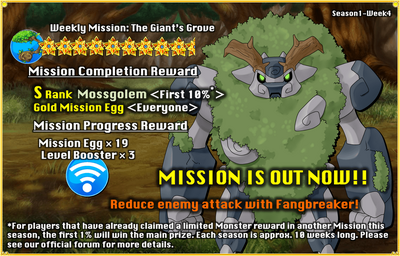 Awarded to the first 10% of the people who completed the online mission from 12/14/13-12/19/13. This OM had 36 floors and progress rewards included 20 silver(green) mission eggs for completing floors and 3 level boosters for defeating the first three bosses. The last boss awarded a gold mission egg and a S-rank Mossgolem if you finished in time.
Description
Edit
Type: Plant
Element: Earth
Rank: 9.5 stars
Siesta
Fang Break (Passive)
Last Will (Passive)
Ad blocker interference detected!
Wikia is a free-to-use site that makes money from advertising. We have a modified experience for viewers using ad blockers

Wikia is not accessible if you've made further modifications. Remove the custom ad blocker rule(s) and the page will load as expected.