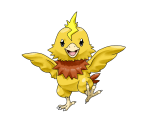 Sanders is a 1 star Bird Arkadion. Its element is Air, its number in monstepedia is 23 and it evolves into Kentucky. It is clearly named after Colonel Sanders, the founder of KFC (Kentucky Fried Chicken).
Evolution
Edit
1st Form

Evolves at lvl 9

2nd Form

Final Evolution

Sanders
Kentucky
Stats taken from Monsterpedia
| HP | Attack  | Magic | Speed | Defense | Resistance |
| --- | --- | --- | --- | --- | --- |
| 29 | 10 | 4 | 12 | 9 | 6 |
Name
Time Units (TU)
Description
100

This ability targets all Arkadions in your party.

Increases speed by 38%

100

This ability targets up to 1 enemies.

Stuns target for 50 TUs.

Deals 7-8 Physical damage (Air)

250

This ability targets all Arkadions in your party.

Applies the following effect to your targets:

Effects When You Attack:

Stuns target for 150 TUs.

This effect is removes at the end of the target's turn.

Sacrifices your Arkadion

Passive

Death Revenge Effects to All Enemies [80% chance]: This effect does not activate if the killing blow was also a battle ending blow.

Stuns target for 120 TU.
Ad blocker interference detected!
Wikia is a free-to-use site that makes money from advertising. We have a modified experience for viewers using ad blockers

Wikia is not accessible if you've made further modifications. Remove the custom ad blocker rule(s) and the page will load as expected.